Government sources tell HuffPost UK some of the £4bn-worth of crisis planning means the UK is accidentally better prepared for Covid-19.
When the government spent £4bn on planning for a no-deal Brexit that looked a remote possibility with parliament ranged decisively against it, many said it was a waste of money.
But Britain is already benefiting from at least some of the work that took place in the run-up to the two aborted exit days of March 29 and October 31 during the Brexit chaos of 2019.
As coronavirus grips the nation, government sources have revealed that in key areas the intensive contingency planning ordered by Boris Johnson is proving "one of the most useful things we have done in the last six to nine months".
Much of the key work has taken place inside the Department for Health (DfH) and Department for Environment, Food, and Rural Affairs (Defra) – two branches of Whitehall that are most affected by both Brexit and coronavirus.
Meanwhile, across government officials who have built up crisis and contingency expertise working on no-deal planning have been immediately retasked with coronavirus work.
Cabinet secretary Mark Sedwill also revealed this week that some of the 800 former employees of the Department for Exiting the European Union (DExEU) staff have been working on coronavirus.
it's made a massive difference and it's really enhanced our preparations and response this time
Medicines
While many countries in Europe have gone into lockdown and the US has banned flights from the continent, there has been little discussion of potential medicine shortages in the UK.
According to one Whitehall source, that is partly because the DfH has been through a process of working out how to deal with medicine supply being choked off due to Brexit-related border disruption.
"No-deal planning has probably been one of the most useful things we have done on this in the last six to nine months," they said.
"On things like medical supply you go through a whole process working out what the supply chains are, working out what your pressure points are, so in DfH we know all about every medicine that comes into the country.
"We know what country it comes from – we know where it's made, how it moves through the supply chain.
"It's actually meant we've had total global shutdown and broadly you haven't seen things like medicines stores run out, and it's in part helped by the fact we've got much more of a grip and a handle on the medicines supply chain and where we get pharmaceuticals from.
"If exports from a certain country stop, because of the work we have done we can kick work off really quickly on finding alternatives or generics. It's made a massive difference and it's really enhanced our preparations and response this time."
Pharmaceutical companies were also asked to maintain their no-deal stockpiles of medicines and medical equipment, perhaps with one eye on the end of the transition period on December 31, where an effective no-deal Brexit is possible if the UK and EU fail to strike a trade deal.
"We have a load of stockpiles from no-deal planning," the source said. "We told pharmaceuticals not to run them down in case they were needed."
Food
Panic-buying has been one of the most striking changes in behaviour wrought in these early stages of the coronavirus.
But supermarkets have been clear there is no need for individuals to stockpile as they will be able to maintain supplies, even as countries like Italy and Ireland lock down.
Part of this is due to the work done during 2019 to ensure supply chains could stand up to a no-deal Brexit amid warnings of tomato shortages and Britons being forced to eat Christmas dinners in autumn, a Defra source said.
"In terms of the resilience in their supply chains, supermarkets are very much prepared for everything that's going to come ahead due to all the no-deal prep that was in motion," they said.
"They have constantly been reassuring us that the food supply chain is going to be absolutely fine and it's with a lot of prep they have been doing before."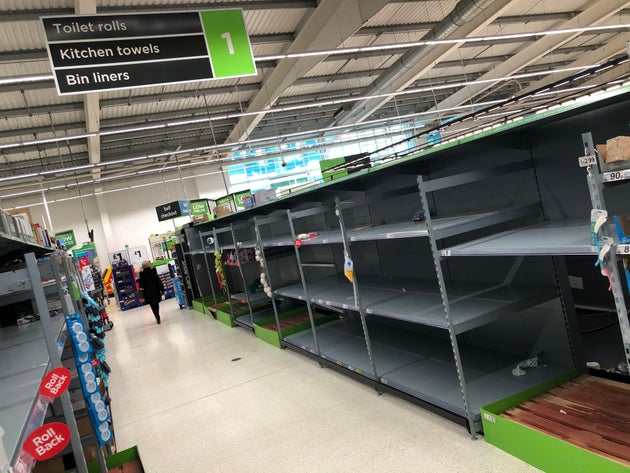 Officials previously working on Brexit have also been tasked with coronavirus work.
"I think all departments will be finding that lots of the issues will be similar, so we are very much ready to go with a lot of this stuff," the source said.
As part of the Operation Yellowhammer no-deal crisis planning, Defra is also understood to have done detailed research into consumer behaviour and is helping retailers like supermarkets with their messaging and response as people panic buy and photos of empty shelves go viral online.
British Retail Consortium spokesperson Tom Holder said: "The BRC and our members are taking learnings from the no-deal planning as they begin to craft their messages to their customers in the wake of the spike in demand provoked by coronavirus."
Whitehall
While a lot of the big picture no-deal planning carried out by departments was irrelevant and incomplete, some of the central power structures erected in Whitehall are almost certain to help deal with coronavirus.
Joe Owen of the Institute for Government said the civil contingencies secretariat which played a big role in Operation Yellowhammer is likely to be playing a part in responding to the outbreak.
Its work during no deal planning involved "rapid response, monitoring what pressures are being felt in different parts of the system, reporting up and taking decisions in a kind of rhythm that might feel quite similar to this."
"The fact they stood those up in March and October means they may feel like the wheels have been greased," Owen said.
Ministers will also be accustomed to daily Cobra crisis meetings as they will mirror the work of the 'XO' no deal planning committee ran by Michael Gove.
"It's ministers and officials in the same room working out what are the big issues in the short-term, what are the longer term things to be thinking about, taking in advice across Whitehall," Owen said.
"That was one of the key battle rhythm meetings in planning for no deal which happened for six months under Johnson.
"And so ministers presumably will feel quite used to sitting down in a room being given lots of information and having officials there to quiz and to talk through action plans."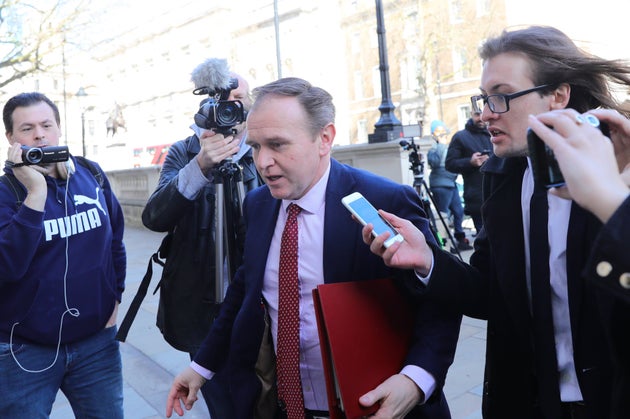 The government's top secret Operation Kingfisher economic plan to support businesses if the economy crashed after no-deal may have helped with chancellor Rishi Sunak's £12bn coronavirus stimulus in Wednesday's Budget.
The project worked on a potential economic response to help firms with cash flow problems due to blockages at the border or if they went out of business – for example, if they did not have the correct certificates to trade with the EU.
"That thinking might not map perfectly over to the sorts of areas where you expect to have disruption but it could do in some areas," Owen said.
No-deal mkII?
There is a risk, however, that diverting attention and resources from no deal planning to deal with coronavirus could harm the UK's preparations for new border checks and other disruption caused when the Brexit transition period ends on December 31.
The government needs to put in place a new immigration system, a new border system, Irish Sea trade checks, new regulators and new standards, with 25,000 civil servants working on Brexit.
"Brexit readiness is not going to be ministers or the most senior officials' priority, it will be coronavirus," Owen said.
"So how Whitehall copes with the enormous readiness task when it's no longer top priority and might have resources diverted could be a big issue."
Johnson has so far ruled out extending the transition but this might become unsustainable as the economic consequences of coronavirus spill into the summer and potentially beyond, with the Office for Budget Responsibility warning a recession is "quite possible".
Owen said: "If coronavirus hits the economy at anywhere near the kind of levels people are predicting and we expect disruption to last until at least the summer, government admits there will be disruption and supply chains will take a hit when the Brexit transition ends, are they going to want to do that overnight on new year's eve if the first half of this year, possibly even more, has been so difficult?"
A Cabinet Office spokesperson said: "The UK is well prepared for these kinds of outbreaks and is working closely with the devolved administrations, World Health Organisation, and our international partners to keep the whole of the UK safe."