In cooled warehouses on the fringes of Frankfurt airport, Deutsche Lufthansa AG is preparing its depleted fleet for the gargantuan task of airlifting millions of doses of the vaccines meant to end the global pandemic.
Lufthansa, one of the world's biggest cargo carriers, began planning in April in anticipation of the shots that Pfizer Inc. to Moderna Inc. and AstraZeneca Plc are developing in record time. A 20-member task force is at work devising how to fit more of the crucial payload onto the airline's 15 Boeing Co. 777 and MD-11 freighters, along with hold space in a vast passenger fleet now flying at just 25% of capacity.
Laid low by a Covid-19 outbreak that's decimated passenger demand, airlines will be the workhorses of the attempt to eradicate it, hauling billions of vials to every corner of the globe. It's an unprecedented task, made more difficult by the carriers' diminished state after culling jobs, routes and aircraft to survive a crisis that's reduced air traffic globally by an estimated 61% this year.
"This will be the largest and most complex logistical exercise ever," said Alexandre de Juniac, chief executive officer of the International Air Transport Association, the industry's chief lobby. "The world is counting on us."
IATA estimates that the equivalent of 8,000 loads in a 110-ton capacity Boeing 747 freighter will be needed for the airlift, which will take two years to supply some 14 billion doses, or almost two for every man, woman and child on Earth. It's a tall order, given about one-third of the global passenger fleet is still in storage, based on data from Cirium.
Katherine O'Brien, the World Health Organization's head of immunization, says
"The climb to the peak is really about delivering the vaccines,".
Here are some of the biggest challenges along the way:
Cargo Capacity
There are around 2,000 dedicated freighters in use, carrying about half of all goods moved by air. The remainder typically goes in the bellies of the world's 22,000 regular jetliners. Airlines have drafted about 2,500 passenger planes into cargo-only roles, but the job of distributing the vaccine would be easier if fleets were flying with usual frequencies to their usual destinations.
Mothballed Jets
Almost half of Africa's passenger aircraft fleet is in storage
Note: Fleet data excludes regional jets
Pfizer plans to ship 1.3 billion doses of its vaccine by the end of next year. Moderna, which plans to request U.S. and European approval on Monday, will produce about 500 million. AstraZeneca has manufacturing capacity for 2 billion doses, half of those targeted to low- and middle-income nations.
"What we have to do is very quickly help the world get up on its feet," said Dennis Lister, vice president for cargo at Emirates, the world's largest long-distance airline. "Part of that is making sure we get vaccines on planes to people that need it, so we get people flying again."
To allow more passenger jets to be brought back into service, governments should open up travel, says Glyn Hughes, IATA's global head of cargo, striking a familiar industry refrain.
Deep Freeze
The Pfizer-BioNTech SE vaccine adds an extra layer of difficulty. It must be transported at minus 70 degrees Celsius, colder than winter in Antarctica, and the companies plan to use GPS-enabled thermal sensors to track the location and temperature of each vaccine shipment.
Upon arrival, the vaccine can be stored in ultra-low temperature freezers (which are commercially available and can extend the vaccine's shelf life for up to six months), or in a fridge in a hospital for five days at 2-to-8 degrees Celsius, or in a special Pfizer thermal shipper, in which the doses will arrive. That can be used as a temporary storage unit by refilling with dry ice for up to 15 days. Once thawed, the vials cannot be re-frozen.
Payload
The supercooled Pfizer vaccine will see more use in Europe.
NOTE: Some orders are for "up to" stated doses; Chart excludes Indonesia, Chile, Egypt, Argentina, Ecuador, Switzerland, Costa Rica.Airlines will instead rely on Pfizer's specialized containers to cool the medicine.
United Airlines Holdings Inc. has begun flights to ready Pfizer's vaccine for distribution if it receives regulatory approval, said a person familiar with the matter. The pharmaceutical company and the airline declined to comment on the flights, which were reported earlier by the Wall Street Journal.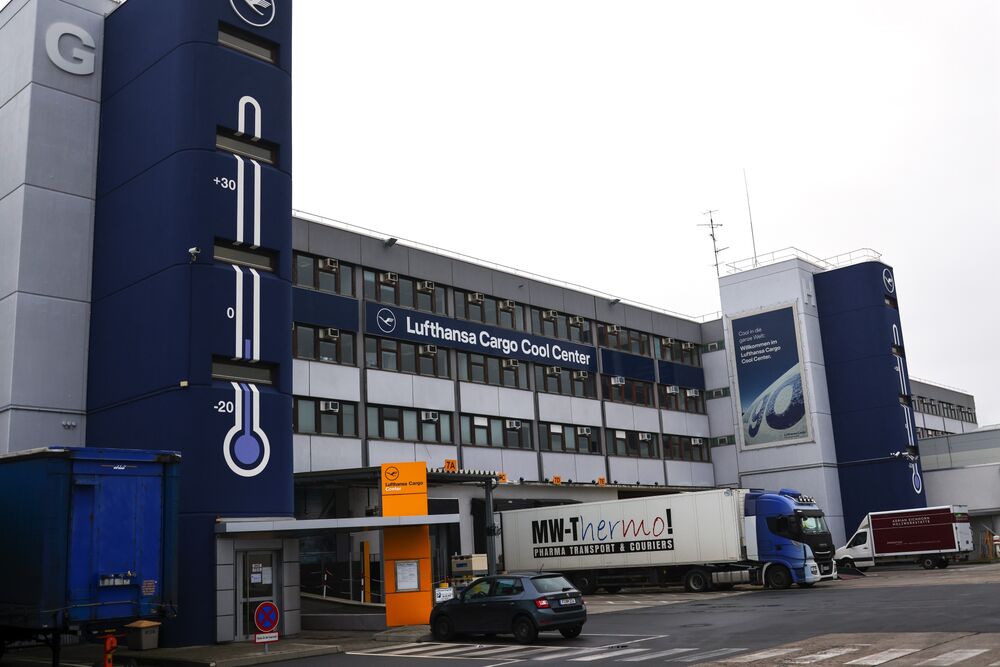 American Airlines Group Inc. and Delta Air Lines Inc. are among other carriers that have said they're prepared to handle shipments of the Pfizer drug. American has both temperature-controlled containers and pre-packaged shipments with cold packs or dry ice.
Delta recently approved use of DoKaSch GmbH's Opticooler RAP climate-control containers.
"If all vaccine producers ship within a narrow time frame, the situation would require all cargo carriers to be involved," said Vittal Shetty, director of innovation and delivery-airport excellence and cargo for American. "While distribution needs continue to evolve, a team approach will ensure that there will be enough air cargo capacity to handle demand."
Storage
Despite the hurdles, a well-established global network for pharmaceutical distribution should expedite the flow of doses. Cities ranging from Miami, Dallas and London, to Liege in Belgium, Dubai, Mumbai, Singapore and Incheon in Seoul have well-established deep-freeze capabilities.
United Parcel Service Inc. has built facilities in Louisville, Kentucky, and in the Netherlands with a total of 600 deep freezers that can each hold 48,000 vials of vaccine at temperatures as low as minus 80 degrees Celsius.
FedEx Corp. has added freezers and refrigerated trucks to its already extensive cold-chain network, and Richard Smith, who's heading up the delivery firm's vaccine effort, has pledged to free as much air and ground capacity as needed.